A Common Mushrooms Guide for Beginners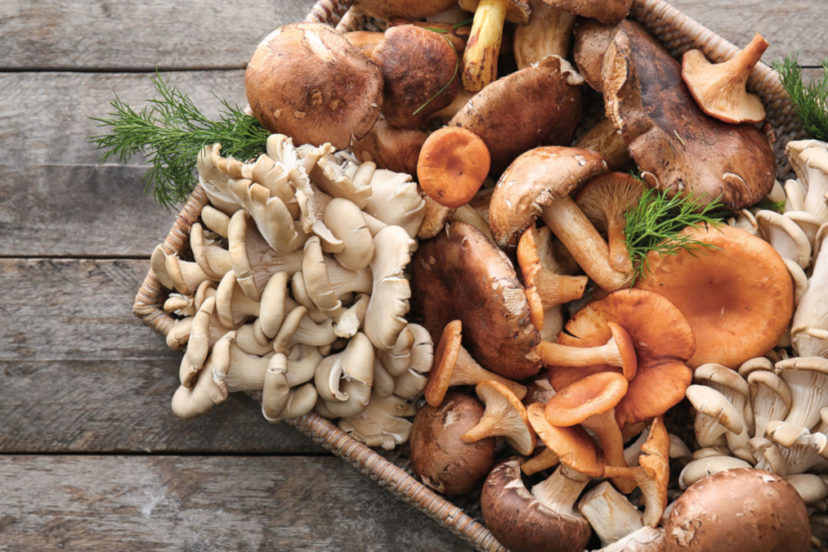 Few things add to a dish as much as a well-prepared mushroom. It's tough to beat that earthy flavor and satisfying crunch.
If you're only starting to explore the world of cooking with mushrooms, you may be wondering what type goes well with what dish – and it's a common question.
After all, while, some mushrooms are, for example, perfect for the grill, plenty of others are not. But they may instead hold up very well in a soup or a delicious pasta meal.
In this handy guide to common mushrooms, I'll break down the seven most popular types of edible mushrooms, how to best make use of them, and some of the benefits of eating them.
White Button
When most of us hear the word "mushroom," white buttons are what comes to mind. They're what you'll find in just about every grocery store and takeout meal.
White button mushrooms do, unfortunately, often have a bad reputation. Plenty of people think of them as rather spongey and bland.
That reputation is, however, not warranted. It's merely a sign they may not have been well prepared.
When cooked the right way, white buttons are absolutely delicious – full of flavor and crisp in texture. As a bonus, they contain a good amount of protein too.
The best way to prepare white button mushrooms is first to rinse them, but only for a few seconds. They absorb water quickly, which reduces the flavor and can make them spongey.
Once clean, all you need to do is cut them up into smaller pieces – though not so little that they start falling apart – sautee them with a bit of oil, and add them to your dish of choice. They're also delicious all on their own.
Cremini
Closely related to the white button is the cremini mushroom. Botanically speaking, they're the same species – Agaricus bisporus. What sets them apart is that creminis are aged a bit longer before being picked.
Cremini mushrooms are just as common as white buttons and have a very similar flavor. Their texture is, however, a bit firmer.
Creminis can be prepared in the same way as white button mushrooms too. And when raw, they are an excellent addition to most dishes that contain a good amount of liquid – think casseroles, quiches, hearty soups, and stews.
Portobello
You've met the child and the parent. Now meet the grandparent.
Believe it or not, portobellos are also the same Agaricus bisporus species of mushroom as white buttons and creminis. The difference is they've been allowed to fully mature.
Portobello mushrooms are a great meat substitute, thanks to their rich flavor, meaty texture, and high content of vitamins D and B. Like meat, they can be grilled or sauteed and make an excellent addition to any pasta sauce or stir fry.
But, just because portobello mushrooms can be used instead of meat, doesn't mean the two don't play nicely together.
Portobellos are, for example, a delicious addition to burgers. In fact, if you would like to take things a step further, you can even use two of them as a replacement for the bun.
Morel
Morel mushrooms are common in forests where there is an abundance of down trees. They can be fun to hunt for and, seeing how they're also rather pricey, many people do indeed prefer to find their own – me including.
One quick warning, though.
If you ever decide to head down the foraging route, be sure to know exactly what to look for. Several poisonous mushroom species look an awful lot like morels.
Not only are morel mushrooms delicious to eat, offering a distinct earthy flavor, they're also very rich in nutrients. They contain large amounts of copper, folate, iron, manganese, niacin, phosphorus, riboflavin, vitamin D, and zinc. Calcium, magnesium, potassium, selenium, thiamine, and vitamins B6 and E also make the list, albeit in lesser amounts.
One of my favorite ways of preparing morels is to saute them in olive oil and a bit of heavy cream. White wine works well as a replacement for the latter too.
Shiitake
You can buy shiitake mushrooms either fresh or dried. They're one of the most common mushrooms found in Asian-inspired dishes – especially stir-fries or soups.
To prepare fresh shiitakes, all you need to do is to remove the stems and sautee.
Dried shiitake mushrooms, on the other hand, should be rehydrated. Soak them in boiling water for about 20 minutes first, then use them just like you would if they were fresh.
A bonus to rehydrating shiitakes is that the leftover liquid is quite tasty, so don't just get rid of it. It can be used instead of chicken broth and can even make an excellent base of a sauce.
Shiitakes are not all about their delicious flavor either. They are packed with cancer-fighting antioxidants. They're also chock-full of minerals and nutrients, including significant amounts of copper and vitamin B5.
Lion's Mane
Lion's mane mushrooms are eaten not nearly as commonly as the other species mentioned thus far. But, it is doable and, as far as I'm concerned, should be practiced more often.
If you're going to attempt cooking this medicinal mushroom, know that lion's mane can be a bit bitter. They, therefore, taste best once thoroughly baked or sauteed.
So, why would you want to eat this rather odd-looking fungus in the first place? Because of its impressive list of possible health benefits.
Lion's mane mushrooms can help fight cancer, reduce depression symptoms, help with digestion, give your immune system a good boost, and speed up your body's healing process. If that's not enough, lion's mane can even help protect and boost your brain.
If you're not up for cooking with lion's mane but are interested in the benefits, most people just buy and use them in powder form or as a supplement.
Reishi
Much like lion's mane, the reishi is a medicinal mushroom that isn't used in the kitchen all that often but probably should. It too comes with a long list of potential health benefits.
Used in Asia for centuries and slowly becoming more common in western cultures, reishi mushrooms make a great natural sleep aid. They can also help combat allergies, fight cancer, improve your body's immune system, and even help bring your blood sugar levels into balance.
Reishi are quite bitter. Although they're not always easy to find fresh, they can be eaten cooked much in the same way as other mushrooms – they're an excellent addition to stews, soups, and creams.
Most commonly, however, reishi are used as a powder and added in that form to a dish or drink. Alternatively, many people – myself included – take reishi as a supplement.
Both are easy ways to experience the impressive benefits this mushroom can offer.
Final Thoughts
Mushrooms can make a great addition to almost any meal. They're easy to prepare and cook and can take your dishes to a whole new level of deliciousness.
But, mushrooms are not just about great taste. They're also healthy.
Just about all common mushrooms contains protein, antioxidants, and a long list of minerals and nutrients. Many have other potential health benefits too.
However you choose to eat them, mushrooms should indeed have a place in every kitchen.